Above is a walkthrough of a level I've created in Blender, formatted specifically for a Nintendo 64 emulator for the game engine in Goldeneye 64. The overall project is a bit of a secret still, but you could probably figure it out. This level shows examples of:
Texturing
Low-poly modeling
Coherent themes
Seamless room connection
---
Above is a walkthrough of three levels I've imported into Blender, modified and exported for multiplayer enjoyment! As you can see by the big sign in the game board map, it's about 20% new. Still shows my skill! These levels show examples of:
New Textures
Multipurpose remodeling
Cross-program formatting
You can download and play them on an emulator here!
---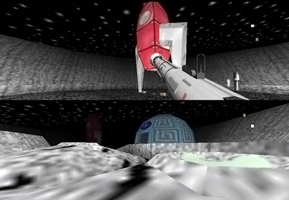 Above is my first completely custom map made for the Goldeneye 64 game engine! Made all the textures and geometry myself! This level shows examples of:
Level Design
Custom texturing
Texture tesselation
Far-outedness
You can download it and play it on an emulator here!
---
Above is a short demo reel of the animations I did for Strawberry Clock Smackdown! This is an example of:
Easy-to-read actions
High-quality animation with limited symbols
Unobstructive yet informative UI
Background art
You can play the game online here!
---
So if you like what you see, contact me! I can bring your games to life!